Naina Lade ke Lyrics Dabangg 3 | Salman Khan, Sonakshi Sinha, Saiee Manjreka - Javed Ali Lyrics:
Presenting the second song Lyrics
"Naina Lade lyrics"
from the most awaited movie Dabangg 3. The film features Salman Khan, Sonakshi Sinha in the leading roles along with
Arbaaz Khan and Saiee Manjrekar. Dabangg 3
is directed by Prabhu Deva.
Naina Lade ke
song released by
T-Series
.
India's most badass and lovable cop Chulbul Robinhood Pandey is back with 'Dabangg 3'.
#Dabangg3 #Dabangg3Song #SalmanKhan
Salman Khan Films in Association With Saffron Broadcast & Media Limited Present Dabangg3 an Arbaaz Khan Production.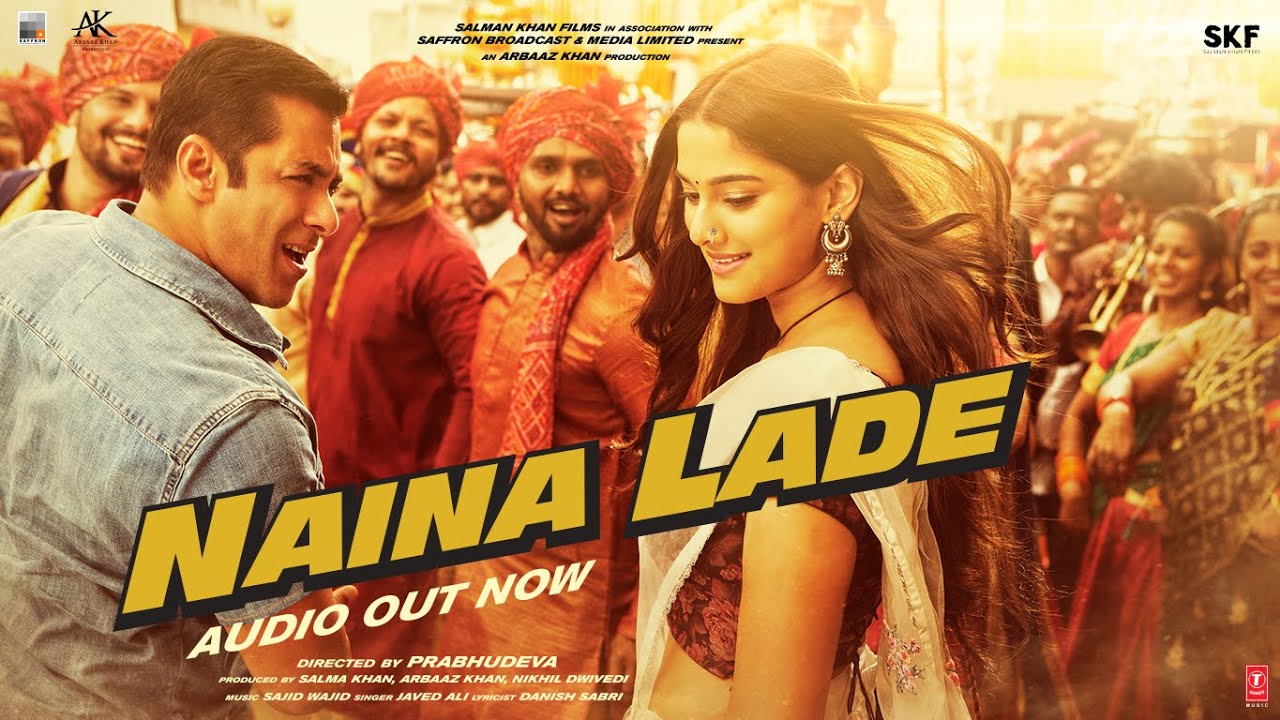 Naina Lade Ke Lyrics / Song Details :
Naina Lade Ke lyrics :
Dil Ki Baatein Kahi Hain
Usne Palkein Jhuka Ke
Ik Nazar Usne Dekha
Humko Jo Muskura Ke
Hum Jahan The Wahin Par
Khade Reh Gaye
Unse Naina Lade Ke Lade Reh Gaye
Naina Lade Ke Lade Reh Gaye
Naina Lade Ke Lade Reh Gaye
Naina Lade Ke Lade Reh Gaye
Naina Lade Ke Lade Reh Gaye
Naina Lade Ke Lade Reh Gaye
Naina Lade Ke Lade Reh Gaye
Naina Lade Ke Lade Reh Gaye
Naina Lade Ke Lade Reh Gaye
Jannat Mein Bhi Shayad Na Ho
Koyi Hoor Uss Hasin Ki Tarah
Dekha Nahi Chehre Pe Humne
Kahin Noor Uss Hasin Ki Tarah
Ishq Ki Woh Ibteda Hai
Husn Ki Woh Inteha Hai
Ba-Khuda Ba-Khuda
Kya Bataun Achanak Kya Hua Hai Mujhe
Muskura Ke Jo Usne Jab Se Dekha Mujhe
Teer Nazron Ke Dil Mein Gade Reh Gaye
Unse Naina Lade Ke Lade Reh Gaye
Naina Lade Ke Lade Reh Gaye
Naina Lade Ke Lade Reh Gaye
Naina Lade Ke Lade
Naina Lade, Naina Lade Ke Reh Gaye
Naina Lade Ke Lade Reh Gaye
Naina Lade Ke Lade Reh Gaye
Naina Lade Ke Lade Reh Gaye
Naina Lade Ke Lade Reh Gaye
Chashme Karam Keejiye
Sarkaar Hamaari Taraf
Dekho Idhar Bhi Ek Baar
Ae Yaar Hamaari Taraf
Hai Asar Yeh Ik Nazar Ka
Rog Humne Umra Bhar Ka
Le Liya, Le Liya
Dil Ki Baatein Yeh Sab
Unse Jaakar Kahein
Har Ghadi, Har Samay
Uske Sang Hum Rahein
Khawaab Aankhon Mein Kitne
Jade Reh Gaye
Unse Naina Lade Ke Lade Reh Gaye
Naina Lade Ke Lade Reh Gaye
Naina Lade Ke Lade Reh Gaye
Naina Lade Ke Lade Reh Gaye
Naina Lade Ke Lade Reh Gaye
Naina Lade Ke Lade Reh Gaye
Naina Lade Ke Lade Reh Gaye
Naina Lade Ke Lade Reh Gaye
Naina Lade Ke Lade Reh Gaye